In recent times, we are using a lot of technology due to the global impact of the pandemic. Most of the work is now being handled virtually and so that the term social distancing can be followed. Our office meetings, online discussions, webinars, virtual events are now the new normal. When it comes to group meetings, one of the best options we have is a Zoom video call. If we talk about the pandemic, we can say that the time is not appropriate to have a physical meeting with our clients and colleagues. We like to stay inside all the time. So, nowadays, Zoom meetings are in practice.
In this complete guide, we will walk step-by-step to integrate Zoom meetings with your WordPress website.
So open your WordPress dashboard.
How to connect Zoom with your WordPress?
Connecting Zoom with WordPress is a fairly easy task. The first thing you need is your zoom account and the plugin Video Conferencing with Zoom. The plugin is free to use and download. Go to wordpress.org and download the zoom plugin.
This article is basically to tell you how to integrate Zoom with your WordPress website. Additionally, you will learn how to configure the plugin, schedule meetings, as well as many of its features. If you want to hire WordPress developers for the same, don't hesitate to ping us!
Connecting website with Zoom
The first step to integrate Zoom with your WordPress website is to connect your Zoom account to your website. To download the plugin, go to the Plugins item on the left side of the dashboard and click the Add New button. After installing the plugin, you will see a new tab on the dashboard named 'Zoom Meetings'.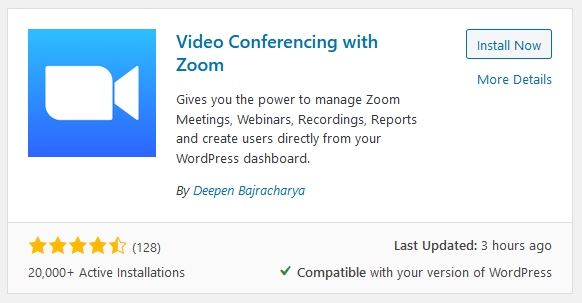 So now, we will proceed to configure our account. For this, we need a Zoom API.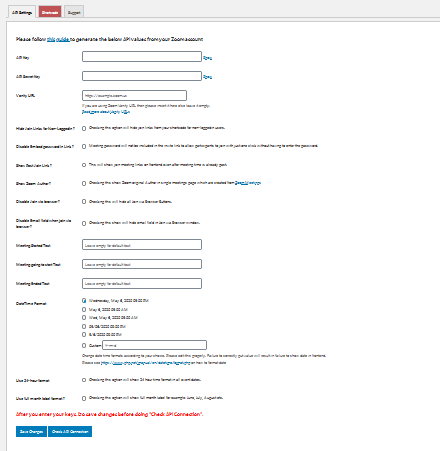 Here, we need to generate a zoom API so that we can configure the plugin successfully. To generate the ZOOM API, we will ask you to follow the steps outlined below:
Step 1: First of all, sign in to your Zoom account. After this, head over to, https://marketplace.zoom.us/develop/create/
Step 2: Click on JWT button.
Step 3: Now name the app you want. Try adding a simple name to make it easier to remember.
Step 4: After this, fill all the requisite information and click on the Continue button.
Step 5: After doing this, a screen will appear with the API key and secret key. Now, copy one by one and paste in the appropriate place. You get it here!
Step 6: Next, click the Save Changes button and click the Check API Connection button if you want to see whether the API is created or not.
We hope that you have followed the steps and successfully connected to your Zoom account. Now, our next step will be to schedule a Zoom meeting and show them on our website.
Schedule Meeting with Zoom
At this time, you have successfully integrated zoom with WordPress using the API. After this, you will see several options. One of the best things about this plugin is that it works the same way you create a new post or page. All you have to do is click the Add New button to schedule a new meeting.
The next screen will look like this: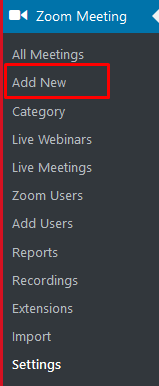 Like other meetings on Zoom, you need to name this meeting too. Also, you can add the description of the meeting so that your clients or colleagues get to know what is going to happen in this session. Like other posts, you can also select a featured image and category.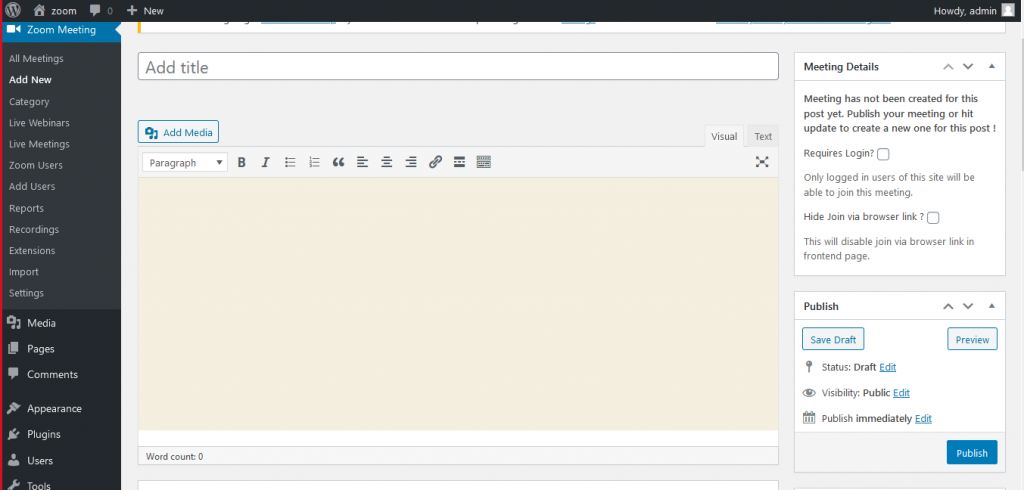 Now, our next step towards scheduling the meeting will be to fill in the required details of the Zoom meeting. A new window will look like this: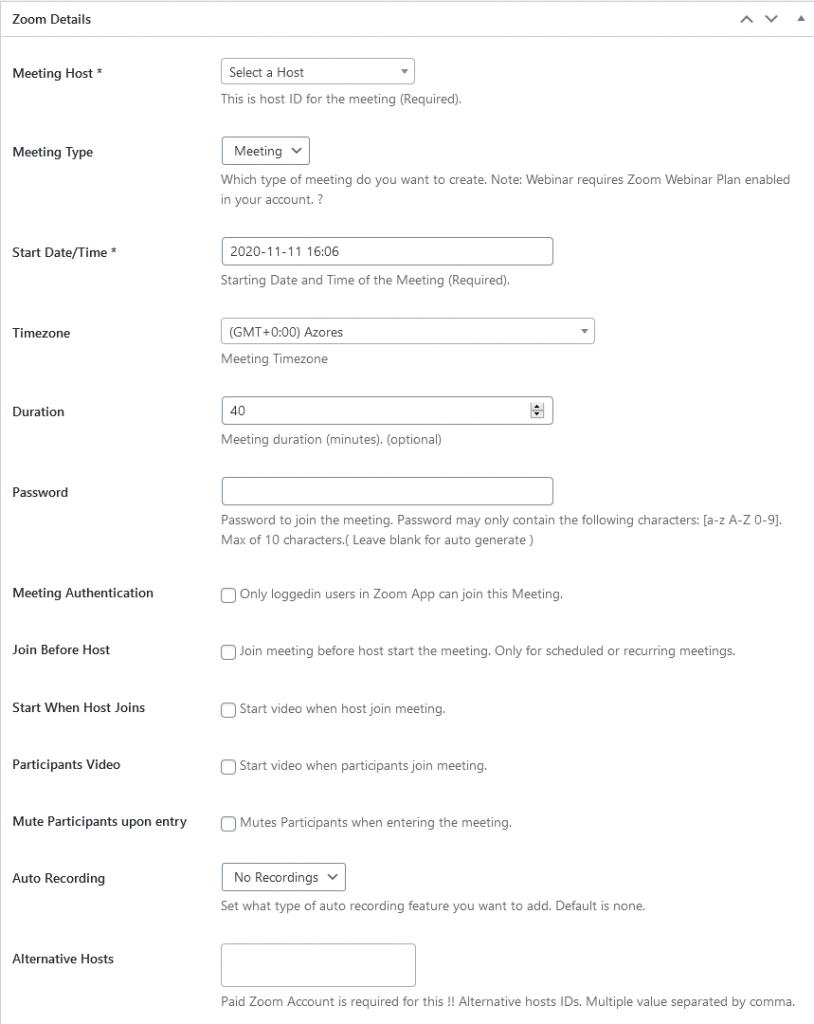 On this screen, you will be able to manage all types of privacy content and meeting types.
You can do as follows:
Select host
Set a time and date
Enable password protection meeting
Auto recording
Alternate host
Meeting duration
And many more!
So far, we have scheduled a meeting. To see the settings, go to the dashboard and click All Meetings.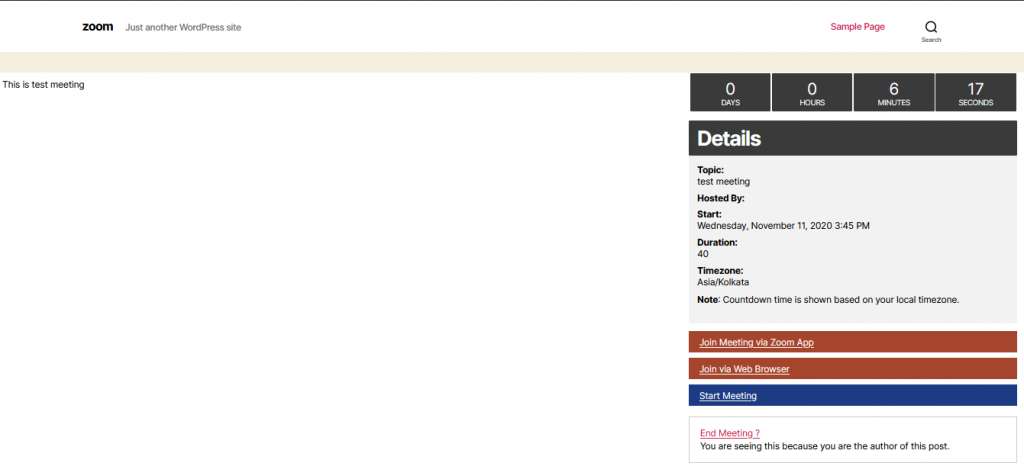 So if you click on the Start button, the meeting will start.
This is how your ongoing meeting would look like: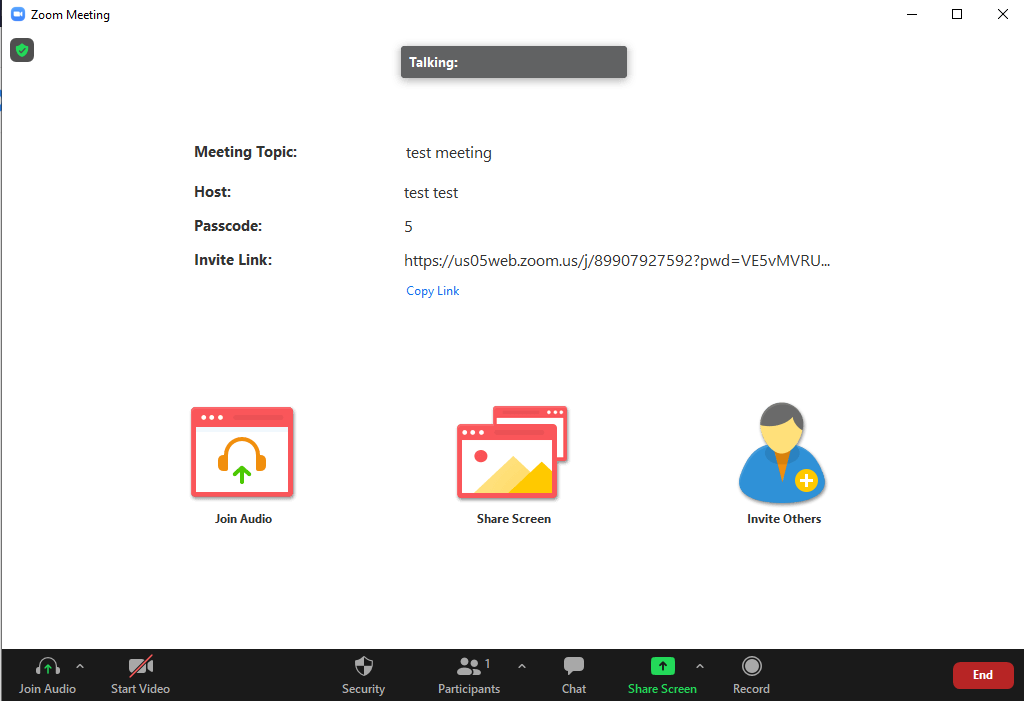 Conclusion:
In this article, we have shared a step-by-step guide for configuring the zoom plugin with your WordPress website. If you miss any step, you will not be able to integrate the zoom properly. Therefore, we will request you to pay full attention and follow our steps carefully. Pin Blooms Technology provides WordPress development services at an affordable price. If you need any kind of assistance, we would love to help you.